Peak Medical Resources Products
Peak Medical Resources is proud to have over 30,000 different devices and equipment available to healthcare facilities across the country. We work tirelessly to meet the fluctuating and demanding needs of hospitals so they keep operating without any downtime.
For over 20 years of combined experience in the medical equipment rentals industry, we've been a trusted resource to rely on for all your medical equipment rental and purchasing needs. Whether you're looking for temporary or permanent upgrades to your current equipment, we have many devices to choose from.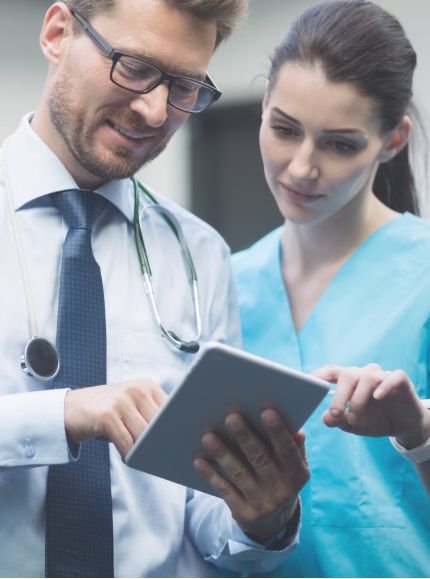 Medical Equipment For Sale & Rent
Peak Medical Resources is proud to provide an extensive range of medical equipment rentals and technology to meet the high demand in hospitals and healthcare facilities. We understand no facility is alike; that's why we rent and sell various families of products so that you have the freedom to choose.
Infusion Therapy
Infusion therapy equipment is among the most necessary components in a healthcare facility, so we know how important it is for you to have the best on the market. We strive to offer a full range of infusion pumps and tubes to cover every ailment of your patient.
We carry infusion therapy products that will meet every need, from dialysis to delivering medication. If you are looking for a specialized infusion pump, we provide a variety of shapes, sizes, and carrying forms in many different brands.
There are a few different families of infusion therapy products that we offer, including:
Pole Mounted
Syringe
PCA
Ambulatory
Feeding Pumps
Feeding pumps are necessary for adult and pediatric patients to get the proper nutritional intake. We understand hospitals and healthcare facilities need feeding tubes for various reasons but may not have the right type of feeding tube on hand or low supply.
We always have our feeding tubes in stock for rent and purchase for on-demand delivery, so you get yours as soon as you require them. Whether it's a standard feeding tube you're looking for or pediatric enteral pumps, we have high-quality, brand-name pumps and tubes and other medical equipment rentals for you to choose from.
Some of the types of feeding tubs we offer include:
Enteralite Infinity Feeding Pump Aqua
Enteralite Infinity Feeding Pump Orange
Kangaroo ePump Enteral Feeding Pump
Kangaroo Joey Enteral Feeding Pump
Patient Monitoring
Patient monitors need to be easy and quick to read and provide accurate results. The patient monitors we provide range from standard bedside monitors that track and record to specialized monitors with high-definition resolution and brightness so you can choose what best fits your facility.
We offer a variety of patient monitoring equipment rentals, such as:
EtCO2 Monitor
Vital Signs Monitor
Cardiac Monitor
Oximetry
Infant Care
We offer a vast range of infant care equipment, like warming cradles, infant monitors, and incubators. You can select the best for your healthcare facility from our extensive selection.
Sometimes hospitals don't have the medical equipment they need for infant care when they need it most. We provide all the products needed to outfit an entire natal ward and specialized NICU equipment so we can deliver it immediately so precious time isn't wasted.
We carry a wide range of infant care products, like:
Fetal Monitor
Phototherapy
Incubator
Bassinet
Respiration Therapy
Our product lines cover all levels of respiratory therapy, from bipaps, to ventilators and other specialty medical equipment. If your facility requires a specific type of respiratory equipment, we purchase and rent a variety of rare products to cover every need.
Additionally, we know that the demand during colder flu months can skyrocket, so we always have a high volume of products on hand, so you're never left without.
The types of product families we supply include:
Ventilators
Specialty Ventilators
Bipaps
Airway Clearance Vests
High Flow Therapy
Miscellaneous Respiratory Equipment
General Care
Whether it's simple care supplies or specialized technology and machinery like defibrillators and EKGs, we've got you covered when it comes to general care products of all sorts.
General care medical equipment keeps hospitals running — Peak Medical Resources ensures that even the most basic hospital needs are covered.
Some of the general care family of products we carry are:
Hypothermia care
EKG Machine
Sequential Compression Device
Oximetry
CPM Machine
Defibrillators
Suction Units
Compression Devices
High-Quality Medical Equipment for Sale & Rent
Whether you want to buy or rent medical equipment in bulk or just need a few specialized devices, our products are hospital-ready and available for purchase or rent.
We also offer rent-to-own options if the medical equipment you rent becomes integral to your facility. Additionally, if you have medical equipment to sell, we purchase select medical equipment.
Superior Medical Equipment
We strive to streamline the entire ordering, shipping, and invoicing process for the fast service and same-day delivery healthcare facilities need. When in our care, medical equipment is always kept in top shape, with all sanitation standards adhered to so products arrive clean and ready to go upon arrival. This means you don't have to waste time setting up medical equipment once it arrives.
We take extra precautionary steps during the shipping process so no device ever arrives that isn't up to your standards. Our shipping offices at each location provide high-standard shipping and delivery services to ensure you get the high-quality medical equipment your facility needs right away with no hassle or complexity.
The Right Medical Equipment When You Need It
We take the complexity out of the buying process, so you get the medical equipment rentals and purchases you require as soon as possible, with no hassle.
Since 2009, our goal has been to support the efficiency of all healthcare facilities with convenient selection and shipping, emergency response aid, and top-level service.
Currently, we serve hospitals and healthcare facilities in the following locations:
Houston, TX
Dallas, TX
PA / NJ / NY Areas
Arizona
Chicago
(More locations coming soon)
Whether you need to rent some products for a specific patient, or you want to buy new medical equipment to upgrade the ones you have, we provide a variety of products as well as fast and efficient service. With Peak Medical Resources, you're never left waiting around for the vital medical equipment you require.